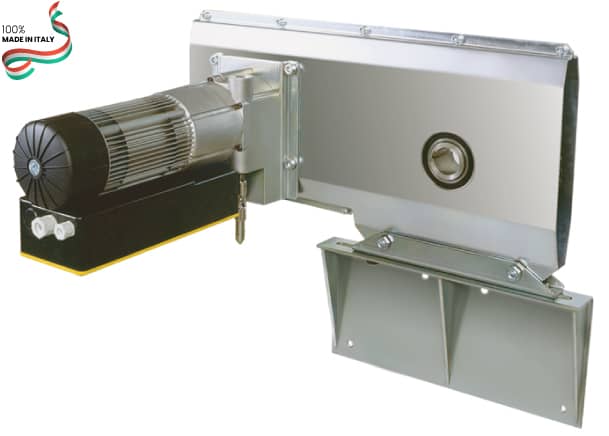 motor-side bracket available in gear ratios 1:5 / 1:7
match support or shelf for motor-side bracketin relation to the chosen transmission ratio
connection for axle with tongue to be combined with a pair of flanges according to the tube Ø
The TAURUS FAST 8M is a proven and reliable lateral engine forfast shutters.
It is the easiest solution to install for residential or industrial windings,where you need a quick opening.
The engine is equipped with the ACRUX AB LINK converter (72 RPM) housed on board on IP67 watertight box. The ACRUX AB LINK is a single-phase converter with an electroreducer, with a teleinvertitor function, a low-voltage control in man present and ramp of acceleration and deceleration.
The TAURUS FAST 8M combined with the Merak control unit allows the control of opening and closing speeds that can be adjusted by changing the frequency.
Maximum connection speed with the Merak control unit via CAN BUS cable (4mt).
The Merak control unit is adaptable to all transmission kits already in use.
Available in three versions:
BASIC:management centre for the control of the ACRUX AB LINK
79260001
PLUS: management center with control button
79260002
RADIO CONTROL: management center with receiver control button with remote control
79260003
Accessories with the control unit:
RAK 01: Three-key button
77010000
RAK 02:Two-position switch control device and emergency stop
77020000
adjustable speedby changing frequency from the Merak control unit
Acrux ab linkconverter (72 rpm) on board on IP67 watertight box
velocità avvolgimentofino a 108 RPM
cable control unit connection can bus (4 m)
tube rotation speed ratio 1:5 (RPM)
tube rotation speed ratio 1:7 (RPM)
tube rotation speed ratio 1:5 (RPM)
tube rotation speed ratio 1:7 (RPM)
tube rotation speed ratio 1:5 (RPM)
tube rotation speed ratio 1:7 (RPM)
tube rotation speed ratio 1:5 (RPM)
tube rotation speed ratio 1:7 (RPM)
tube rotation speed ratio 1:5 (RPM)
tube rotation speed ratio 1:7 (RPM)
tube rotation speed ratio 1:5 (RPM)
tube rotation speed ratio 1:7 (RPM)
tube rotation speed ratio 1:5 (RPM)
tube rotation speed ratio 1:7 (RPM)
tube rotation speed ratio 1:5 (RPM)
tube rotation speed ratio 1:7 (RPM)
tube rotation speed ratio 1:5 (RPM)
tube rotation speed ratio 1:7 (RPM)
tube rotation speed ratio 1:5 (RPM)
tube rotation speed ratio 1:7 (RPM)
tube rotation speed ratio 1:5 (RPM)
tube rotation speed ratio 1:7 (RPM)